RF Trap in Original Size FLEXI-BOX
SPECIFICATION
RF Trap 400 KHz to 1.0 GHz
Loss @ Fc > 25 dB
Insertion Loss < 1.0 dB
Impedance 50 Ohms
Box Dimensions
63.5 mm x 50 mm x 30.5 mm
The price of the RF Trap FLEXI-BOX is dependant on the connectors required. To find the price for your connector preference or to make a purchase, select your connector requirements in the boxes beside the photograph below and then select "Add to Cart".
Description
The RF Trap is built in an Original size FLEXI-BOX on a dedicated PCB. These units can be supplied ready built and tested from Chemandy with a trap frequency from 400 KHz to 1.0 GHz. The attenuation is less than 1.0 dB over the 300 KHz to 3.0 GHz range, with approximately 30 dB ± 3 dB at the required trap frequency and there can be a gentle downward slope at the higher frequencies, which is dependant on the type of connector and the capacitor value used. The input and output connectors can be selected from BNC, N, SMA and TNC.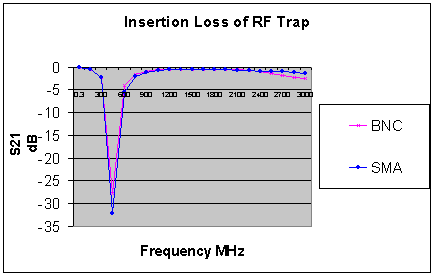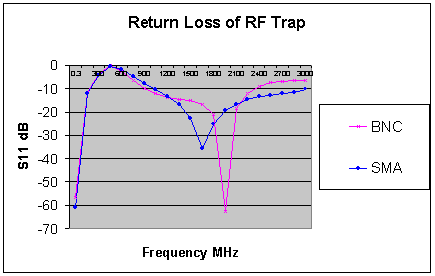 If you wish to build the RF Trap, the frequency can be selected as required using the Resonance Calculator. The method of use is much the same as the methods used for the version with attenuators.
This test aid is available Ready Built or in Kit form. The Kit contains the hardware only; i.e. box, pcb, connectors, screws etc. Components are not included because they are surface mount and it is impossible to supply the correct amount because of the 'ping' factor. Anybody who has fitted surface mount components will know that when a component is being placed with a pair of tweezers there is often a 'ping' and the component disappears into thin air. We would have to supply at least two of every component thus doubling the cost.
A selection of escutcheon drawings are available for downloading as .zip or .bmp files.
Return to Product Index