Stub Filter in Original Size FLEXI-BOX
SPECIFICATION
Stub Filter 1 GHz to 2.8 GHz
Loss @ F
c
> 27 dB
Insertion Loss < 1.0 dB 0.3 MHz to 3.0 GHz
Impedance 50 Ohms
Box Dimensions
63.5 mm x 50 mm x 30.5 mm
The price of the Stub Filter FLEXI-BOX is dependant on the connectors required. To find the price for your connector preference or to make a purchase, select your connector requirements in the boxes beside the photograph below and then select "Add to Cart".
Description
The Stub Filter is built in an Original size FLEXI-BOX on a dedicated PCB. These units can be supplied ready built and tested from Chemandy with a filter frequency of 1.0 GHz to 2.8 GHz. The nominal attenuation is less than 1.0 dB over the 300 KHz to 3.0 GHz range, with a further 30 dB ± 3 dB at the required filter frequency. The input and output connectors can be selected from N, BNC and SMA.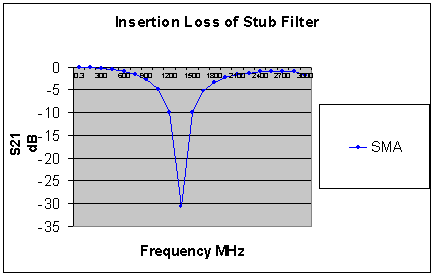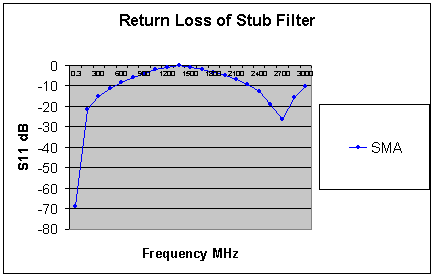 If you wish to build the stub filter, the frequency can be tuned as required. Simply trim the stub track to the required length using a craft knife and a soldering iron. The graph below indicates the change of centre frequency with distance from the edge of the board to end of the track. It is advisable to trim small pieces from the track and work towards the required frequency. Two boards are provided in the KIT in case you get it wrong the first time.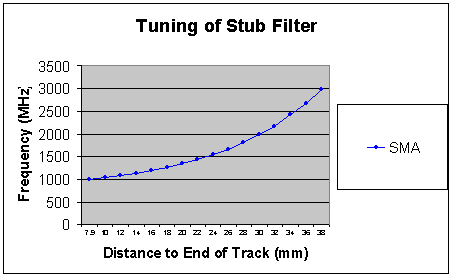 This test aid is available Ready Built (tuned to your required frequency) or in Kit form.
A selection of escutcheon drawings are available for downloading as .zip or .bmp files.
Return to Product Index