Microstrip Transmission Line Characteristic Impedance Calculator Using The IPC-2141 Formula
The characteristic impedance (Zo) of a microstrip transmission line can be calculated using the active calculator or the formula at the bottom of the page.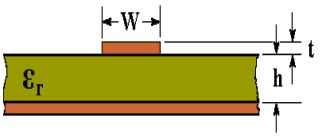 This calculator uses Visual Basic and will work in Internet Explorer and other browsers with Visual Basic plug-ins. For more information see About our calculators. A further Microstrip Transmission Line Impedance Calculator is available in JavaScript.
---
The calculator gives very similar results to those in Table 1 of an article at http://www.polarinstruments.com/support/cits/IPC1999.pdf
The following formula is given in the above article by Polar Instruments.

Where εr is the Relative Dielectric Constant
W is the Width of track
t is the Thickness of track (1 oz/ft2 = 0.035 mm)
h is the Thickness of dielectric
---
Note that the "h", for dielectric thickness in this formula is omitted in some other Polar publications.
The original source of formula is IPC-2141: Controlled Impedance Circuit Boards and High-Speed Logic Design, April 1996.
IPC have their website at: http://www.ipc.org/ContentPage.aspx?pageid=PCB-Tools-and-Calculators
---
This calculator is provided free by Chemandy Electronics in order to promote the FLEXI-BOX
Return to Calculator Index