dc Block in a Micro Size FLEXI-BOX
SPECIFICATION
dc Block 300 KHz to 2.0 GHz with BNC
dc Block 300 KHz to 3.0 GHz with SMA
Insertion Loss < 0.4 dB with BNC to 2 GHz
Insertion Loss < 0.6 dB with SMA to 3 GHz
Return Loss > 15 dB
dc Maximum 25 Volts
Impedance 50 Ohms
Box Dimensions
35 mm x 35 mm x 23.5 mm
The dc Block is built into a Micro FLEXI-BOX and is suitable as a test aid to protect test equipment from damage or could be installed in a system.
The price of the dc Block in the Micro FLEXI-BOX is dependant on the connectors required. To find the price for your connector preference or to make a purchase, select your connector requirements in the boxes beside the photograph above and then select "Add to Cart".
Description
The dc block has a 50Ω transmission line track running from one end connector to the other with a 25 Volt dc capacitor mounted in-line. The track on the PCB gives good performance from 300 KHz to 3.0 GHz with SMA connectors and 300 KHz to 2.0 GHz with BNC connectors, as can be seen in Figures 1 & 2.
Figure1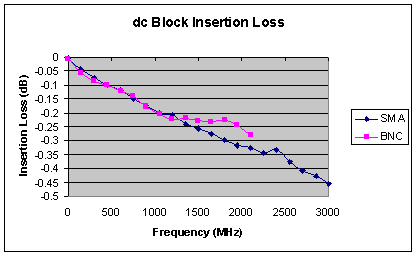 Figure 2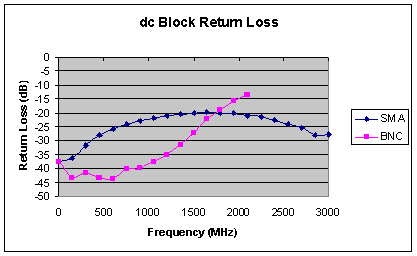 Return to Product Index