Bias Tee in Original FLEXI-BOX
SPECIFICATION
Bias Tee 10 MHz to 3 GHz
Insertion Loss 0.8 dB ± 0.6 dB
Return Loss > 15 dB
Impedance 50 Ohms
Power Handling 16 Volts 1 Amp
Box Dimensions
63.5 mm x 50 mm x 30.5 mm
The Bias Tee is for supplying dc to the inner conductor of a coaxial cable and is available with selectable BNC, N, SMA or TNC connectors in an original size FLEXI-BOX
The price of the Bias Tee FLEXI-BOX is dependant on the connectors required. To find the price for your connector preference or to make a purchase, select your connector requirements in the boxes beside the photograph above and then select "Add to Cart".
Description
The bias tee is built in an Original size FLEXI-BOX on a dedicated PCB. The box has one 50Ω input and one 50Ω output. It is intended as a power tee for use with the a remotely powered amplifier, but its wide frequency response would allow it to be used in many other applications that require remote supplies. The DC input is fitted with a feed through capacitor with a solder tag. The RF connectors can be selected from BNC, N, SMA or TNC. Other connector types could be fitted if required in quantity. We build and test these at Chemandy with an insertion loss of 0.8 dB + 0.6 dB from 10 MHz to 3 GHz, a current handling capability of a maximum of 1 Amp and a maximum DC input of 16 Volts. The Other performance specifications can be achieved by changing component values and types on the one common PCB and if you require a different specification please Contact Us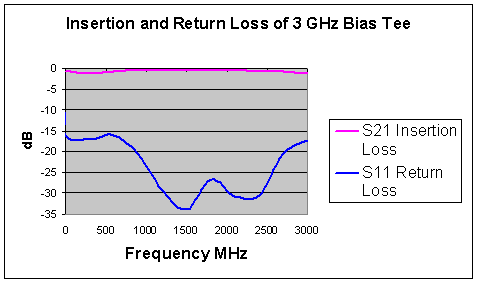 The above results were obtained with SMA connectors and the performance will most probably be marginaly inferior with any other type fitted.