Building a HF Amplifier Project page 3
The PCB is now fixed into the FLEXI-BOX with four corner screws.
Figure 6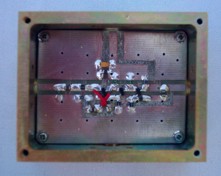 Next comes the connectors and this is the beauty of this system. Whichever connector you have selected from our range BNC, SMA or N, it will easily fit direct onto the box. No drilling or taping, just fit four screws and solder the centre connector. Figure 7 shows the box with a SMA connector and a sleeve which is first slipped over the dielectric of the connector if a good high frequency response is required.
Figure 7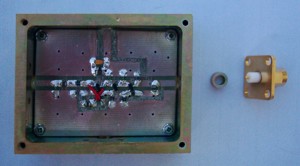 BNC connectors are fitted without the sleeve and most TNC connectors with a 11/16" flange will also fit directly onto the box.